ISPM-15 Heat Treated Wooden Pallets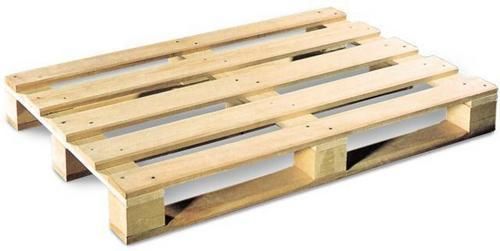 | | |
| --- | --- |
| Business Type | Manufacturer, Exporter, Supplier, Retailer |
| Product Code | HT ISPM-15 |
Preferred Buyer From
| | |
| --- | --- |
| Location | Anywhere in India |
We are one of the leading manufacturers and suppliers of Heat Treated Wooden Pallets, Wooden Pallets manufacturing, indian Wooden Packaging Pallets ISPM-15 Heat Treated Wooden Pallets in India. ISPM-15 Heat Treated Wooden Pallets offered by us are specially treated with chemicals for guarding against any termite attack.

Whenever Wood is used for Packing Any M/c or Product, It is known as Dunage or Wooden Packing especially for Export.
In Nature all Wooden Products Consists of Different Types of Pests and Fungi and Those are Particular to the Area-country of Origin.

In Order that these pests do not enter another country (while Exporting) we need to treat these pests (kill or confine) so a treatment is needed. Hence the W T O in Collaborated with Plant Protection Council Devised a Standard Called I S P M 15(international Standard for Pytosanatary Measure 15) all countries should follow this compulsorily from July 2007.

India is a signatory and the agriculture ministry is responsible. Their department known as plant protection quarantine and storage of India is to certifying that the wood product is free of pest.

This is done by building a room of any size fully enclosed and insulated (so no heat escapes) and the wood is kept inside and the room is heated, now the room will heat up to 70 to 90 deg the wood will also heat but slowly the wood core should be heated at least 56deg and should remain at or more than 56 deg for 30 min and more.

Then the wood is declared free of pests and treated according to I S P M 15. A certificate is Issued and allowed to export.

At the same time water content of the wood is also reduced to 15% from its original state. Since the water is reduced and the pests cannot live without water and the heat has eradicated them there is no chance pest and larvea, and no pest can enter as the wood cells are hardened new pest find it hard to enter the treated wood.

If untreated wood reaches foreign country and pest is found a fine is levied or treatment charges will be collected from exporting party or confinement will be returned. So for export of any wood packaging we need this creti.

ISPM 15
The ISPM 15 protocol was started in UK on March 2002 as no bug product but this was compromised. So WHO voluntarily adopted this new standard in 2003 along with a process called M.B Methyl Bromide a chemical for killing pests (but this is very dangerous to human health) this was approved by us standard animal and plant health inspection services (APHIS) the ht standard was ratified and approved by the American lumber standard commission (ALSC) and the Following Countries Adopted On the Following Dates.

If you have to export any wooden products to any of these countries you must have the wood treated and ISPM stamp is a must as ht in 000.
| | | | |
| --- | --- | --- | --- |
| ARGENTINA | JUNE 2005 | EGYPT | OCT 2004 |
| AUSTRLIA | SEPT 2004 | EU | MAR 2004 |
| BOLIVIA | JULY 2005 | GUNTAMALA | 2004 |
| BRASIL | No date as yet | INDIA | SEPT 2005 |
| CANADA | SEPT 2005 | MEXICO | MAR 2003 |
| CHILE | JUNE 2005 | NEWSELAND | 2003 |
| CHINA | JAN 2006 | NIGIRIA | MAR 2005 |
| COLOMBIA | SEPT 2005 | PURU | MAR 2005 |
| COSTA RICO | JAN 2005 | PHILIPINES | MAR 2005 |
| ECQUDOR | JUNE 2004 | SOUTH AFRICA | 2005 |
| SWIS.LAND | JAN 2005 | SOUTH KORIA | JUN 2005 |
| TURKEY | JAN 2006 | US | SEPT 2005 |
| VENUNSULA | JAN 2006 | | |
Read More...
Looking for "
ISPM-15 Heat Treated Wooden Pallets

" ?